They're fascinating, to be sure, but how do you go about

buying a luxury watch

? In this chapter, we'll go through the process.
Price Point
When you start exploring luxury watches, you may be surprised by the vast range in pricing. Let's take a look at the standard price points and what you can expect in each field.
Entry Level Luxury: $300 to $1,000
At this level, you'll learn to love luxury watches for their features, design and elegance. What features can you expect to find in an entry level timepiece? Look for the following:
Solid Metal Construction
It seems obvious to look for solid metal construction, but you'd be surprised how many watch components are made of plastic. Examine the sides of bracelets to see if the links are hollow or solid. Hollow construction signals shortcuts in the manufacturing process.
Sapphire Crystal
The transparent cover over a watch's face is called a crystal. For entry level luxury watches, you can expect to find crystals made of mineral glass and sapphire. If at all possible, choose a sapphire crystal because it's more scratch resistant than glass.
Swiss or Japanese Movement
The best movements in the entry level luxury watch market hail from Switzerland and Japan. At this price point, it's challenging to find a mechanical movement, so keep your focus on quartz. Swiss movements usually come from ETA, and Japanese from Miyota, which is part of Citizen.
Watchmaker Design
Some entry level watches are designed by actual watchmakers, and some are designed by fashion designers. Unfortunately, those intended for fashion's sake often function poorly and may even have missing chronograph dials, too-short hands or inoperable measuring scales. Look for a watch designed by watchmakers.
Double or Triple Locking Clasps
Cheap watches often have single-locking mechanisms on their bracelets. Higher quality bracelets feature double or triple locking clasps to ensure that the watch will stay on your wrist even if it's bumped or jostled.
Quality Dial Illumination
Classic and formal watches aren't expected to have dial illumination, but if you choose a watch with luminant on the dials, choose quality. Luminant from tritium gas tubes glow for about 25-30 years. Watches with LumiNova and SuperLumiNova are also good bets.
Medium Range Luxury: $1,000-$20,000
Once you experience the passion and taste of luxury watches, you raise your expectations and start to look at timepieces in this range. From mechanical movement to chronometer certification, the features in this price point are exciting.
Mechanical Movement
Quartz movements are incredibly reliable, so why do people pay more for mechanical movement? Not only do mechanical watches run without a battery, but they also represent classical watchmaking and offer emotional value that battery-powered watches just can't.
Chronometer Certification
Not all mid-range (or even high-range) watches attain chronometer certification, but some do. COSC testing is rigorous. It's specific to each movement and must be accurate within -4/+6 seconds per day.
Quality Finishes
Enjoy exploring all the gorgeous case finishes and polishes you'll find at this price point. In the watch world, finish refers to the amount of parts-finishing that the movement receives. A hand-finished movement resembles artful jewellery. Look for Geneva waves, bevelling and black polishing (also called specular or mirror polishing) from luxury watches at the upper end of this price point.
Dial and Movement Decoration
Mid-range luxury watches are beautiful. You'll find special touches like polished rotors, textured dials and machine engravings on the dial. This detailing, even if you can't see it, vouches for the watch's value and makes it more memorable to you.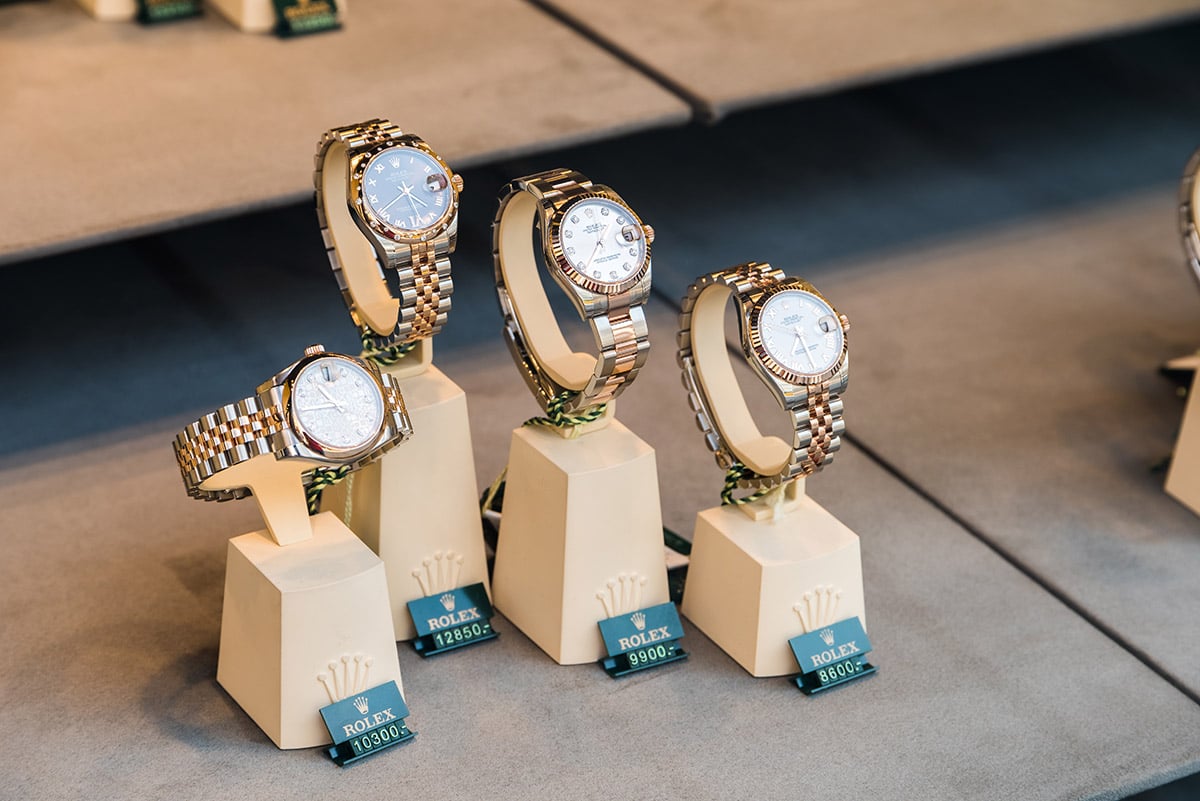 High-End Luxury: $20,000 and Up
After years of appreciating luxury watches, buyers of high-end timepieces know what they're looking for. And often, they're looking for features such as the following:
Precious Metals
Instead of titanium and stainless steel, you'll see 18K gold and platinum at this price point. Investigate how much of the watch is constructed of precious metals. Some cases will be wholly made of precious metals, others just parts.
Natural Jewels
The two primary options for jewels are natural and manufactured. At this price point, look for natural. Although they don't necessarily perform any better, there's a romance to knowing your jewels were mined from the earth. Sapphires and diamonds are the most common jewels in luxury watches.
Hand Construction and Assembly
The highest end watches are handmade by expert watchmakers, and the quality shows. It's not uncommon for a watchmaker to toil for an entire year over a single high-end luxury watch. Each part must be fabricated, decorated, assembled and tested, and this process can take many months.
Complications
High-end luxury watches don't just tell time. They may also include spectacular complications, each with complex movements to back up their functions. For example, some watches have perpetual calendars, sonneries, moon phases and even multiple time zones. Each of these complications adds to the exquisite beauty and function of high-end luxury watches.
Limited Production
The best luxury items are produced in limited quantities, and this is definitely true for timepieces. Not all high-end watches are made in limited batches, but many are. So ask how many models are made of the watches you're interested in.
Where to Buy
Unfortunately, the market is flooded with all manner of luxury watch fakes and reproductions. To make sure you're getting what you pay for, buy your timepieces from a reputable watch dealer.
A long-established watchmaker will likely be around when you need service or repairs. You may also need exchange parts in the future, so starting a long-term relationship can be incredibly helpful.
Q Report Certified Jewellers offer cover for your watch, so it can be ensured from the moment you walk it out of the shop. If anything happens to your luxury watch, you can return to your watchmaker for repair or replacement.
Authenticity
Determining the authenticity of a luxury watch can be difficult, but it's not impossible. The following clues can help.
Check the Model Number
Fake model numbers are common among phoney luxury watches, especially Rolexes. Familiarise yourself with the model numbers of watches you're interested in, and always verify them.
Check Serial Numbers
Online databases allow you to research fake serial numbers. Many watch makers and dealers have access to these databases and can verify numbers for you.
Colour Discrepancies
Luxury watchmakers are picky about their models' colouring, so familiarise yourself with your favourite models, and don't trust off-colour replicas.
Incorrect Magnification
Authentic models include information about the magnification of cyclops windows, so if the numbers appear too large or too small, you're likely looking at a phoney.
Wrong Movements
Replicas and fakes often have a difficult time mimicking the real movements of high-end luxury watches. Incorrect movements can be a dead giveaway.
Poor Quality Box and Papers
Since luxury watchmakers take such pride in their products, the boxes and papers should match the quality of the timepiece itself. Paperwork folders should be made of genuine leather, and the box's stitching should be precisely regular.
Questions to Ask
Navigate your luxury watch shopping experience by learning to ask the right questions. Since watches are complex items that require a great deal of knowledge to understand, you'll want to ask plenty of questions before any purchase. Be sure to ask the following.
When did this watch come out?
Brand new luxury watch models generally command higher prices than those that have been out for a few years, but that's not the only reason to ask this question. If a salesperson doesn't know this necessary information, he or she is unlikely to know much else about the watch. The watch's release date can also help you to know if there will be a sizeable pre-owned market for a particular model.
What movement powers this watch?
When you ask about a watch's movement, don't settle for general answers like "quartz" or "automatic." Probe further to find out which manufacturer created the movement and seek details about how the watch is powered.
Which watches are suitable alternatives?
When you find a watch you like, it's helpful to learn about feasible alternatives. You may end up preferring an alternative to the timepiece you're initially interested in.
What kind of maintenance does this watch require?
Some watches require more servicing than others, so it's wise to decide up front how much maintenance you're willing to deal with. Watches are machines, and like all machines, they need to be serviced. Fortunately, watches are lower maintenance than cars, but they still need cleaning and oiling every few years to keep them in top condition.
How does this watch work?
It sounds like the most fundamental question of all, but it's essential to learn how a watch works before you buy it. Many watches simply offer the time and date, but some have complications that feature chronograph, calendars, and so forth.
Research and Websites
Precision, quality, workmanship, innovation, superior engineering. Each of these facets deserves a deep research dive, and watch collectors gain a great deal of satisfaction from learning about the intricacies of their timepieces.
The following websites and blogs can help you to learn everything you want to know about luxury watches.
This robust online magazine features reviews, critiques and reports. It's a favourite of watch collectors of all ages.
Check in with Haute Time for horology news, up-to-date information and the releases of the latest luxury timepieces.
With nearly two dozen new blog posts each week, you'll never run out of research and reviews on this site.
In addition to reviews and blog posts, Monochrome offers historical data on a range of luxury timepieces.
With a variety of diverse contributing writers, this New York-based watch website includes reviews of both new and vintage pieces.
Fratello Watches
Based in the Netherlands, Fratello Watches covers luxury watch events, the timepiece industry and new releases.
Time and Tide connects Australian watch collectors with the latest news and watch reviews from around the world.
Founded by Su Jia Xian, who got his start as a watch journalist, SJX gives insights into the Asian watch market.
Jomashop has been in the luxury goods trade for many years and covers not just watches but also handbags, crystal and fine writing instruments.
For up-to-the-minute watch news and reviews, check out Watchuseek, one of the world's most visited watch sites.